Easy ways to apply 'reduce, reuse, recycle' to your packaging practices
by
Danna Crawford
- Feb 23, 2010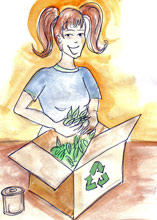 Graphic by Auctiva.com
In all my years of selling on eBay, the only shipping material I've ever purchased was tape! I've been shipping "green" since 1997.
My green shipping practices started, not as much out of concern for the environment at the time but because, as a single mom with three kids, I was on a tight budget. I shipped beanie babies in empty boxes of cereal, oatmeal, cookies and the best Hostess cupcakes money could buy.
CLICK HERE to read the ENTIRE ARTICLE
Share it now!
Be a fan
Pin It