Selling for a Cause
Make a profit while helping a nonprofit.
by
Danna Crawford
- Sep 04, 2009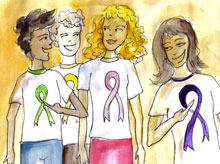 Graphics by
Auctiva.com
I was first introduced to the concept of "cause marketing" by David Yaskulka, owner of BlueberryConsulting.com. He was a special guest on my radio show in 2007, and I've learned a great deal from him over the years.
Cause marketing basically involves a business supporting a good cause by using marketing techniques to promote a nonprofit organization, and raise funds at the same time.
CLICK to view the rest of the article written for Auctiva.com
Share it now!
Be a fan
Pin It