How to Escape a Hostage Situation
Tactical advice for dealing with 'feedback terrorists.'
by
Danna Crawford
- May 14, 2010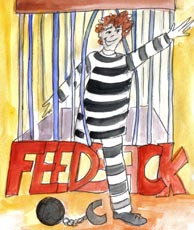 Graphic by
Auctiva.com
Receiving negative feedback can be very upsetting, especially when you feel it's been given unfairly.
I've been selling on eBay since 1997, and I've had my fair share of negative feedback over the years. Griff from eBay Radio refers to negative feedback as a seller's "badge of honor," and I tend to agree with him.
A badge of honor can be considered one of life's lessons that come along with owning your own business. We all have good days and bad days. Trying to ensure the good outweigh the bad is the ultimate goal. As we climb up the ladder of eBay success, we must learn and grow, adjusting our selling styles along the way.
CLICK to READ the entire Article at Auctiva.com