I finally hit Ten Thousand feedback on eBay and received that pretty gold SHOOTING STAR!
Happy dance time!!!!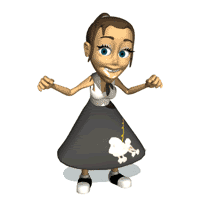 It has been a long journey since I started selling in 1997 with many trials and tribulations getting good feedback and bad.  Making a living full time on eBay has been the most rewarding job for me and I can't thank all those people that have shopped my eBay store enough! I know other eBay sellers can relate when I type to you today about the hard work it is to earn feedback.
Some of you may remember the "Penny eBook" days when eBay pulled those off the virtual shelf they also pulled 400 of my feedbacks from me and other people selling eBooks were not effected but my account was one of those that were "stuck like a dolphin" in a net. Back then eBay would run a sweep kind of thing on accounts and mine was innocent but the damage was done and the sad part was, it could not be reversed. I was crushed with this error BUT I NEVER GAVE UP!  I rolled up my sleeves and became a highly motivated seller because of it.
I've been patiently waiting for the day to see that lovely shooting star on my feedback and HERE IT IS!
Member id danna ( 10000

)
Share it now!
Be a fan
Pin It