How to sell Books and Magazines on eBay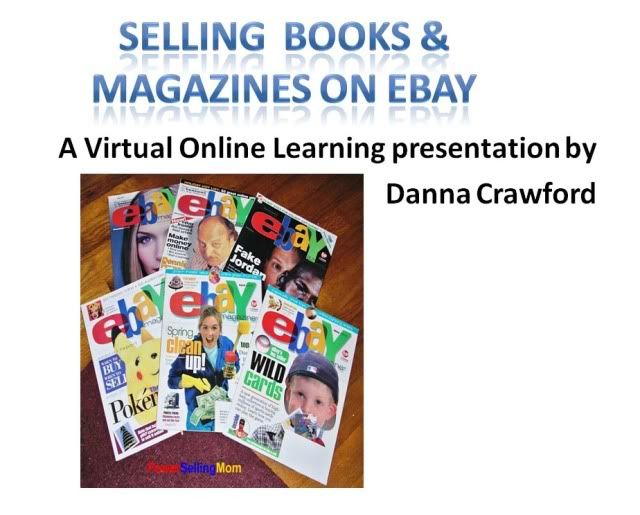 I've been selling books and magazines on eBay since I first started. Back then the hot books to list were the Beanie Babie books and the value guide magazines! Oh those were the days making thousands on eBay in one day selling bags of beans!
I later discovered Amazon.com and listed thousands of books at a time on Amazon and soon learned that I sat on thousands of books in inventory with items that were very slow moving so I soon ended my selling account at Amazon and put all the books that were left in one huge box lot. I listed the lot on eBay and sold them to a buyer from Indiana! He rented a U-haul and traveled to Florida to pick up all the books. I made a few hundred bucks in one listing and was rid of the un-sell-able books left in my garage.
My book selling experience soon taught me how to be more selective with selling books and getting creative with listing them on eBay.
Selling on weekends at the local Flea Markets in the Chicago area I would run into other sellers with large lots of magazines of all types. Many would leave the unsold magazines in a pile at the close of the day with no desire to haul them back home again so, I started to gather up the magazines and became challenged with selling them on eBay.
Those that know me know how I LOVE a good challenge and I found several options with moving magazines on eBay. Check out the styles of these eBay sellers:
I do get several eBay sellers asking me about how to sell Playboy / Adult Magazines on eBay and there are rules about selling these types:
Pre-1980 Playboy, Playgirl, and Penthouse magazines can only be listed in the Books > Magazine Back Issues category in the main eBay categories, and the listing can't contain any images of nudity.

Playboy, Playgirl, and Penthouse magazines published after 1979 can only be listed in Adult Only section.
As of this week,today the highest priced Playboy magazine selling on eBay was:
JUNE 1954 VOL 1 NUMBER 7
Sold on Feb. 13, 2011 for 357.99
Item number: 160542728043
To learn more and watch a couple presentations I made about How to sell books and magazines on eBay, visit my eBay store:  AskDanna.com
Selling books on eBay is the perfect way for a NEW eBay seller to learn eBay and get the ball rolling to understand HOW to sell on eBay. Books are easy to ship and easy to list.
This week, the hottest selling book on eBay was: Chinese Book, Xi Yong Xuan Cong Shu , Republic
SOLD on February 12, 2011 —> $8,988.00 Item number: 280626073024
Enjoy the challenge and the profit of selling books and magazines on eBay! Have you sold any lately?  If you would like to learn more, visit my eBay store and pick up a learning DVD that I personally created: AskDanna.com
Share it now!
Be a fan
Pin It