Me Page Is About You, Not Me
Don't bypass your chance to market yourself to eBay buyers.
by
Danna Crawford
- Nov 24, 2009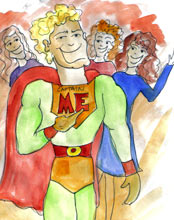 Graphic by
Auctiva.com
If you're an eBay member and you don't have a

page, I urge you today to create one! There are so many benefits to having one. And it's a free tool eBay allows all members to have, so you may as well take advantage of the opportunity.
Me pages have many uses within the eBay system, but perhaps the best one is the marketing it can provide you. You can use this page to describe shipping terms, tell a bit about you, share some photos, and even add a few links to your other Web sites or those you frequent.
The only limitation here is eBay's "two-click rule." This means if you place a link to an external Web site, it must take two clicks before a page shows something for sale outside of eBay. The first click can't lead directly to a Web site offering something for sale, but the second click can.
CLICK to READ the entire Article