Researching items to sell on eBay is one of the most important "beginning" parts of listing items. Worthpoint helps speed up the research process.
Not only the identification but the value. Determining the current market value can be challenging.
Here is a copy of the webinar I presented sharing ways I use Worthpoint to research.  I hope you will find it most valuable and informative.

Enjoy a free trial! One week of 7 look-ups!
Cancel at anytime.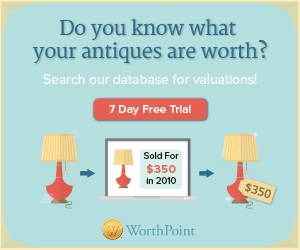 The identification of items will help you to list faster. Which will help you to sell items faster. Understanding the price of what items have sold for helps you create better listings in more ways than one.
First off, Worthpoint allows us to copy the words used in other listings. Next you can past them into your current eBay listing. It seems with each search on Worthpoint I learn about more keywords that will help get more eyes looking at my items.
Need some assistance? Feel free to contact me with your questions.  I may be able to help you seek out the answers you need to identify that hard to find item.
How to search?
Start with a few keywords. Don't use too many at once. You can always add more or less as you go along.
Such as:
Nippon Vase
Rose Nippon Vase
Tall Nippon Vase
Abingdon Cookie Jar
Train cookie jar
Choo-choo train cookie jar

Trying out different combinations will help narrow down to the perfect search. Adjust the page view to show 100 photos. This will make it easier to scan the page faster each time.


Worthpoint is the perfect solution for researching everything Collectible and all types of Antiques. The site is growing their data base every day. Adding more and more items. Pulling in data from eBay and other auction houses. This system will help us all become better eBay sellers.


Further reading: